Putting your health first in 2018...

We have been so busy here at the centre that this is our first newsletter of the year - true to my word I haven't bombarded your inbox!

For our new subscribers ... our newsletter collates our event and therapy centre news. Carlisle Therapies is a team of self-employed complementary and alternative health practitioners from throughout Cumbria and beyond so there can be plenty to report. This year my intention is to share our news seasonally and perhaps the occasional event update or timely offer.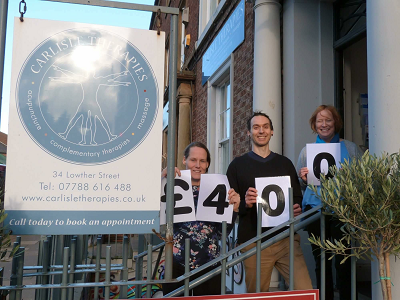 Firstly, thank you so much for your support of our wellbeing day - even those who couldn't make it but sent us goodwill messages - it all helped us raise £400 for Eden Valley Hospice. Nicky is running two more fundraiser talks in February and March - for our yogis these intentionally fall in your yoga week break - so do come if you wish. Booking and details can be found on our Events page.

To read the rest of our news, sign up for our seasonal newletter on our Newsletter Sign Up form on our facebook page here.